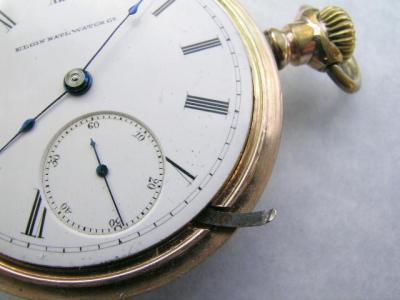 The other day I found out that there are links to some web pages of mine on these
ehow.com
pages, here:
http://www.ehow.com/how_6179645_set-elgin-watch.html
and also here:
http://www.ehow.com/how_6088512_instructions-setting-elgin-watch.html
There are perhaps others. The links to my content are toward the bottom, under "references" and "resources." I'm happy that those links are there, but there are a few amusing things about this. One is that what I assume to be their automated system has credited my web pages to "R. Drop". It actually says "Rdrop" but I think "R. Drop" is funnier. It makes me think of
R. Mutt
. I assume that the attribution is generated from the URL
http://www.rdrop.com/~jsexton/watches/
.
R. Drop aside, the ehow.com page provides more to comment on.
To begin, there are the remarks about lever-set watches. Lever-set watches reflect a typically older design where by the watch is not set by the usual pulling out and turning of the crown. Instead there is a lever to be pulled out which shifts the watch to setting mode (there's some photos and notes about this here:
http://www.rdrop.com/~jsexton/watches/faq.html
). Lever-set watches were considered more "professional" because they where hard to set and thus less likely to set accidentally if the crown pops out on its own.
The
ehow.com page
states that "
Most jewelers recommend that antique lever set Elgin pocket watches be set by a professional. The process requires special tools and may be too difficult for someone with no antique watch repair experience to complete
."
Not really. Setting a lever-set watch can be tricky. The lever is small, the watch is fragile and the mechanism will often have eccentricities, especially on older watches. However these are consumer products, designed to be used, and set, by their owners. It would be pretty impractical to have to take a watch to a watchmaker every time you have to set it (which could be frequently). Special tools are not required, although a good finger nail helps. Vintage watches are very much more difficult to use than modern watches, and yes many people do not realize the extent to which this is the case - one needs to know a bit about them, but the statement above is an exaggeration I think.
Another chuckle on the same page... "
It is not necessary to wind Elgin quartz watches before setting the time.
"
Well 1) it is not necessary to wind a quartz watch
ever,
and 2) as the same page states above, Elgin went completely out of business in 1968. They never made a quartz watch.
The
other page
at ehow.com includes this odd statement, "
Vintage Elgin mechanical watches should be wound and set daily to keep the movement lubricated. The movement is the tiny spring mechanism inside the case that runs the watch.
"
I'm not sure why the bit about a spring is there, but moving on...
In the old days, organic oils were used in lubrication of watches. It is true that these oils relied on compression to maintain their characteristics, otherwise they become firm and gummy, and naturally the watch stops running. With modern synthetic oils which seem to have gradually come into use in the 1970s, this is not so much the case. If you have a watch that has not been serviced in several decades, it should be cleaned and the oil replaced. After that, a watch does not need "exercise." In fact, every time a vintage watch is handled is one more chance for it to be dropped or damaged. If a watch is stored in a clean and dry environment, it will be fine. I recommend special occasion use for most watches.
Then there's this;
"
Setting the time on modern Elgin watches is identical to the originals, but post-1970s quartz models need no winding.
"
Elgin went out of business in 1968. The name has been owned and widely used by several companies since then, but these products are not Elgin watches. Elgin never made a quartz watch. As an aside Elgin never made clocks either, unless you count clocks for cars, and military applications, which are typically 16 size, no-frills pocket watch movements.
"
Shake an Elgin automatic watch once or twice to get it running.
"
Never, never, never
"shake" a vintage watch. It is common for an old watch to need some external motion to get the mechanism running. A gentle rotating movement of the wrist will provide this. It will get the balance wheel to turn, or in the case of an automatic, it will turn the rotating weight inside to give the mainspring a bit of power.
Interesting this second page provide more detail about lever-set watches.
I'm not sure how these ehow.com pages are created. It would seem to be automated at least in part. They could use a little work though, but it could be worse I suppose.